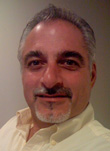 Wayne's Word
When it comes to the appropriate care, rejuvenation and maintenance of your vehicle's exterior and interior surfaces, Wayne Haddad is a master in the field. Wayne has been servicing the Worcester county area for over 30 years! Below he shares his expertise with you, a valued customer! For more great advice on car care sign up for his Good Clean News!
Hello Readers!
Last month I talked to you about the importance of protecting your vehicle through a regular maintenance program of deep exterior cleanings paired with regular hand waxing. Now I would like to help you prepare your vehicle for the upcoming season. So let's talk about the things you should be doing at this time to your vehicle to ensure it's protected during the winter months.
Exterior:
Now is the time to make sure your vehicle receives a deep thorough clean up and a good protective coat of wax. With snow and sleet (not to mention road salt and sand!) right around the corner, ensuring that your vehicle's exterior is properly protected is vital during the tough winter months. As I have mentioned many times to my customers, it's that layer of wax that keeps your vehicle's painted surfaces slick making it easier to clean and helping it to repel the damaging contaminants that bombard your vehicle everyday.
Interior:
During the winter season keeping your interior clean can be a challenge, especially when we seem to do little more than drag slush, sand and salt into our vehicle each and every time we enter it! However, keeping your interior looking and feeling clean can be achieved, even with the simplest of cleaning. An easy routine to help you through the season should consist of a regular thorough vacuuming of the carpets and upholstery, a good wipe down of the dash & console and the cleaning of all interior windows. Also, adding an additional layer of protection over your carpets and factory mats can be accomplished several ways. From the simplest solution such as layering towels over the carpeting, to investing to heavy duty rubber mats like Husky Liners can ensure that the majority of the sand, salt & snow of the season never have a real chance to damage and soil your interior carpeting. The use of towels provides great absorbency as well as being super easy clean and reuse. Husky Liners are a great investment for their high quality makes them durable and long lasting. The construction of these liners provide deep grooves that trap dirt, sand, snow and other contaminants and are a breeze to clean with warm water and mild soap.
Safety:
With driving conditions during the winter months usually being the most difficult of the entire year, safety is always an important factor. One of the biggest concerns that most of us have is poor visibility. Snow and sleet can stick to the windows of your vehicle; dirty spray coming up from the car driving in front of you can cover your windshield, making it nearly impossible to see – especially with glare from the sun. Keeping your windows clean and clear is vital to safe driving and a routine of regular cleaning will ensure good visibility at all times. Also extremely helpful is having a rain repellent treatment applied to your exterior glass. I recommend Aquapel. Aquapel is innovative product from PPG, who are leaders in glass technology. One application of this product repels rain, snow, and sleet and improves visibility in the rain by almost 40%! It is durable and long lasting (3-4+ months) as well as making the removal of ice, snow dirt and bugs much easier. Please check out my website for more information on this great product!
Until next month!


Questions? Comments? CLICK HERE to send them along to Wayne!
---
Home Again, Home Again

Menu of Services

Our Mobile Units

Accident Clean-up
Other Services

Good Clean News

Wayne's Word

About Us
(508) 755-5250