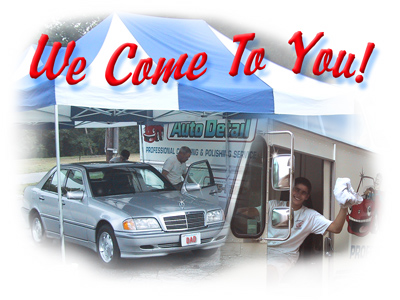 Haddad Auto Detail is on the road with our totally self-contained fully equipped mobile units, making it easier than ever before to properly maintain the appearance of your vehicle. With the convenience of our on-site services, you will never again have to relinquish your car for the day or make arrangements for getting to and from work. All of the worry is eliminated when we come to you!
Don't hesitate! Call us today or contact your Employee Services Representative to book a visit to your place of employment!
See are menu of services
HERE
.
Criteria for on-site services:
Minimum number of vehicles required
Approval must be obtained from employer or property manager prior to appointment date
Mobile services are not to be combined with any other Haddad Auto Detail specials
---
Home Again, Home Again

Menu of Services

Our Mobile Units

Accident Clean-up
Other Services

Good Clean News

Wayne's Word

About Us
(508) 755-5250